Each year Autism Live curates a list of top toys and gifts in a wide range of categories and developmental levels to help you find the perfect gift to delight the children, teens and adults in your life who are on the Autism Spectrum. In the adult category we have included toys and gifts that we hope will foster independence, skill building, and the reduction of day -to-day stress. We have attempted to choose toys in various price ranges to help you make the perfect holiday selection.  We hope there is something to delight everyone on your list!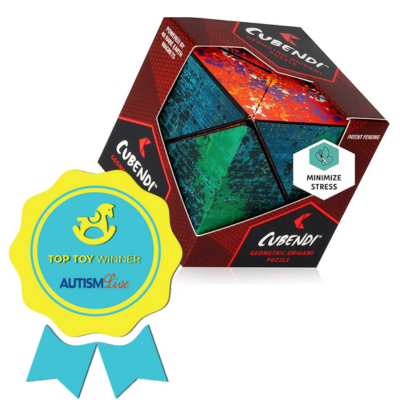 Calm your mind, soothe away stress, and discover your inner zen with the ultimate sensory fidget toy gift! With its completely unique design and quality craftsmanship, this shape shifting cube makes a satisfying sensory stimulation gift your friends and family will love. Cubendi is an entirely NEW form of a magnetic puzzle – similar to Shashibo but with a world of new possible shapes and unique movement. Collect and Combine several Cubendi to create even larger structures!
We love the way Cubendi challenges the imagination while focusing attention and soothing stress.  It is addictive to play with and easy to take everywhere, making it a TOP TOY in our eyes.
Therapist Recommendation Toy Winner
This wildly creative STEM marble maze for kids and adults can be built on any vertical magnetic surface like the fridge, lockers, whiteboards, workbenches & more! The secure snap-fit connectors eliminate frustration to keep you creative, with detailed instructions highlighting how to use each piece, and a Learning Guide that teaches about physics and engineering!
We love a good marble maze but this elevates the concept to a whole new level.  Playing with this addictive toy builds problem solving skills, and works on cause and effect and other scientific concepts. Best of all…it's really fun!
Build this toy to gain experience in the inner mechanical workings that enable the Hedgehog to move the way it does; learn about gears, motors, sound sensors, LEDs (your hedgehog's eyes light up! ), and more! My Robotic Pet Tumbling Hedgehog is programmed to tumble, roll, spin around, bristle its spines, and scurry along in response to your claps. Clap once and your Hedgehog curls up into a ball and tumbles backwards one time. Clap multiple times, and it will roll again and again, tumbling once for each clap!
We love the STEM skills this kit fosters. Once you have built your robotic pet you get to enjoy hours of fun having him perform tricks using clap commands.  
Speech Builder Toy Winner
Need a fantastic ice breaker? Discover common interests and shared experiences that instantly transform strangers into friends. Cluenect makes social gatherings more enjoyable than ever.Embrace the thrill of deciphering one-word clues from your loved ones and amass rewards. Each clue is your key to unforgettable adventures! 
This is really fun card game to spark hours of fun conversation.  You will have fun trying to read your friend's minds as each player looks at all the connotations of the words we use.
Social Skills Builder Toy Winner
The Folkmanis® Yeti puppet is a playful version of the mythical creature with snowy white fur, 2-handed gloves for added animation plus movable eyebrows and mouth for expressive and engaging open-ended play.
This delightful puppet is an amazing tool in addition to being a well-made toy.  A fun puppet can be an excellant buffer to navigate social situations and learn new social skills.  This puppet is so expressive he makes creating conversation and fun interactions even easier.
Tangle®! Twist it, turn it, Tangles are the universal plaything! A fidget toy, learning tool, stress and anxiety reliever… the Tangle is the perfect toy for sensory seekers of all ages. Tangle fidget toy allows kids to activate both hemispheres while learning and working for increased brain activity.
We love the many versions of Tangle, with all their colors and textures there is something for everyone.  This unique fidget is great for sensory input, quieting anxiety and strengthening focus.
Parents Recommendation Toy Winner
Talking Point Cards Family Edition will help you ask great questions and engage family members of all ages in pleasant chats and enjoyable discussions. Use these engaging conversation starters for fun family bonding and quality time.
A wholesome and positive family dinner game to help your entire family feel free to open up and speak their minds. Even your shy ones!
These little cards are a great way to take the stress out of building conversation.  Easy prompts help foster meaningful conversation and connection.
Oldie but Goodie Toy Winner
Sealed glass, colorless liquid, special sand and bubbles create the perfect picture. Each flip can produce a completely non-repetitive dynamic painting,so you can't bear to release it. The ontinuous flow of sand painting, can alleviate pressure and relieve eye fatigue, suitable for office workers and people who work long hours in front of the computer.
This gift is fun and creative way to destress, especially after screen time. We love this old school toy as a great decompression tool before bedtime.
Goodnight Cactus Thinking Putty
Mimicking a magnificent desert sunset, Goodnight Cactus Thinking Putty® changes color with the heat of your hands. This triple change Hypercolor® captures the peaceful purple, luminous orange, and radiant yellow sundown of the night sky.
All of Crazy Aaron's Thinking Putty varieties are super fun, but we LOVE the way this putty changes colors at the touch of your hands.  The colors remind us of Moab!  It's perfect for building fine motor skills.
Discover the magical world of Moosh-Moosh Plushies, where you'll find an incredible selection of irresistibly soft, cuddly, and adorable stuffed animals that are perfect for children, tweens, teens, and kidults everywhere. Their unique and charming designs are made with premium materials and crafted to bring joy and comfort to all who embrace them.
You are never too old to enjoy these amazing plush toys. They are soft, squishy, comforting, and soothing. We love them. Check out their entire line to find the right plushie, cube, sequined plushie or even slippers that will make the people on your list happy.
Empowering Employment Skills Toy Winner
Ultimate Gemstone & Dig Kit
In this collector's kit, budding gemologists will find 30 tumbled gems that sparkle and shine. A fully illustrated book includes a field guide to the included rocks, plus tons of fun facts and nonfiction content. Gem lovers will also learn about birthstones, 12 of which are included in your starter collection. Use the included chisel and hammer to break out the gem-shaped dig kit to discover a bonus specimen!tent.
This is a great gift to expand the interests of someone who likes geology,  science, jewelry, jewelry making, organization, digging, archelogy, or rocks.  It's also a great gift to uncover a spark of interest in those that aren't already into geology.
All the essentials needed to help  monitor fitness, keep connected, track health, and stay safe. Now up to 20 percent faster, with features like Crash Detection and enhanced workout metrics, it's a better value than ever. Available in a range of sizes and colors, with dozens of bands to choose from and watch faces with complications tailored to whatever you're into.
Get help when you need it with Crash Detection, Fall Detection, and Emergency SOS. Get deep insights into your health.
This is great watch for aiding independence while providing support for safety. This version of the watch is budget friendly while including features that can assist in emergency situations and encourage and track healthy behaviors.
Best Card/Board Game Winner
Head Spin is a lively new family game where Quick fingers and minds race to crack the color code and dial it in on their fidget spinner. The first to get their spinner on the landing pad with the right color combo wins the round!
Hasty Baker is so much fun we had to give it another award this year. This game is a delightful way to have the whole family connect, laugh, and spend quality time together. We also love the way it strengthens executive function and planning skills.
Boredom Buster Toy Winner
With the MicroKits Theremin Electronic Kit you can create music and sound by waving your hands around electric fields! Discover the physics of electrical capacitance and practice working with real electronic parts. Build step by step, with breaks to check your work and learn how your circuit works. Everything you need is in the box. 
This is the perfect gift for music or science lovers.  The kit will provide challenging fun to assemble and then reward with hours of fun making music!
EndeavorOTC is a video game app clinically designed to treat and improve ADHD symptoms for adults, anytime, anywhere. In a clinical study of EndeavorOTC, 73% of participants reported quality of life improvements including: being able to stay on task longer, being better able to multitask, and improved mood.
This really unique app is available on both the Apple App Store and GooglePlay Store.  It's great to see an app that is fun and functional to treat ADHD symptoms!
Hanayama cast puzzles from University Games are a world's finest brain teaser. The high-quality, cast metal puzzles come in 6 Mensa-rated levels. Good value for solo play, confidence builder, fine motor skills, planes of movement, educational tools.
These cast puzzles are well-made puzzles designed to collect and solve.  We love that they are rated for difficulty, making it easier for gift-givers to shop with confidence.
Life Coaching for Adults on the Autism Spectrum
Life Coaching, specifically for adults on the spectrum or anyone who considers themselves neurodivergent, can provide individuals, other coaches, parents and professionals the tools and skills necessary to build relationships from the ground up, develop a rewarding career, manage your day to day life effectively and discovering your true potential.
This is a great resource for empowering adults on the spectrum as they chart a course through their adult years.
Pixelate and build "The Great Wave Off Kanagawa" by Japanese artist Hokusai. The Great Wave Pixel Puzzle comes with 4,187pcs of Pix Brix, Color Coded Template, and PB Tool. Build this incredible pixel masterpiece and hang it on your wall!
This is a great project to create a colorful work of art worthy of display.  Create a Zen space, follow the template, and watch as the magic is unveiled.
Don't forget to check out all the fabulous toy and gift winners in other categories.
You might find exactly what you are looking for there!
We at AUTISM Live
wish you the
Happiest of Holidays!
After all of your shopping is done, if you find that you have more to give, please join us in making a donation of any size to Autism Care Today (ACT). This wonderful organization gives grants to families for things like iPads, insurance co-pays, sensory equipment, GPS devices and more. Your donation could make another family's holiday wishes come true.
TODAY and make a DONATION.