Each year Autism Live curates a list of top toys and gifts in a wide range of categories and developmental levels to help you find the perfect gift to delight the children, teens and adults in your life who are on the Autism Spectrum. This year we have chosen toys in various price ranges to help you make the perfect holiday selection.  We hope there is something to delight everyone on your list!
Magna-Tiles® Storage Bin Bundle
This one-of-a-kind Storage Bin Bundle Set comes with a collapsible storage bin and 84 classic magnetic tiles. When it's time to play, the bin unzips and unfolds into a brightly-colored, interactive play-mat. When the fun is done, simply zip up the four sides and the play-mat turns into a sturdy storage bin for your tiles and other toys. Young builders develop skills in all areas of development: cognitive, physical, communication and social/emotional all through hands-on, screen-free PLAY!
We love all the building aspects of this kit, but the self-cleaning storage bin that comes with the kit is the best thing since the invention of magnetic building.
Therapist Recommendation Toy Winner
The Magformers Spin Plus Set comes with 1 awesome clear fidget spinning piece, 4 squares and 1 green Magformers Logo Square. The clear spinner is a fun fidget spinner by itself! Build your cube and use the fidget as a spinning base to set your builds in motion. This set interacts with other Magformer sets, adding motion to builds such as The Magic Ball, Towers, Rockets, etc. You can even spin your favorite Magbuddy in the cube!
This spinner will provide hours of fun. There are so many ways to customize your spinner and different ways to store it. Therapists love this toy for rewarding breaks, teaching colors and more.
The My Gears® construction kits provides hours of engaging hands-on learning, and are perfect for developing early engineering skills, encouraging creative thinking, curiosity and problem solving, while also developing fine motor skills. Junior engineers learn to understand the basic principles of Gears while building the fun models with easy to follow instructions booklet. Multiple construction possibilities for kids to develop their problem solving and creative thinking skills through play.
We love this kit to help build STEM skills in teens who are just starting to love the engineering side of building.
Speech Builder Toy Winner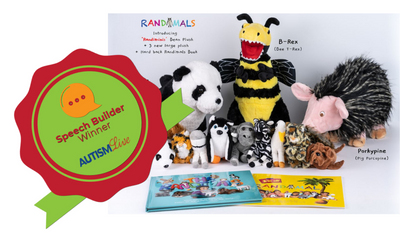 Randimals are made up of two completely different animals, blended together with their own unique and distinct personalities. The Randimal's story has a beautiful message of diversity and inclusivity that is so timely – "What makes us different, makes all the difference in the world." This first Randimals special release consists of 9 plastic figures and 9 plush toys. These highly realistic Randimal animal characters come to life through play. They capture children's imaginations taking them on a journey of adventure and discovery.
This is a really unique line of toys that is sure to spark conversation. Putting two different animals together to arrive at a new species is pretty fascinating. We love the large plushies as they make an ideal gift for teens and tweens.
Social Skills Builder Toy Winner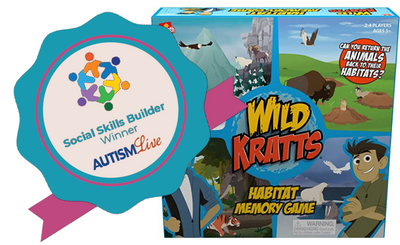 Wild Kratts Habitat Memory Game
The animals are all mixed up and need your help getting back home! Combines creative storytelling with a classic memory gameplay pattern for loads of fun! Includes fun and interesting animal facts your little zoologist will love! Features double-sided gameboard and habitat cards for even more gameplay. Based on the hit PBS Kids' show "Wild Kratts"
We love a good memory game and this one has many added bonuses! Your animal lover will enjoy the animal facts and everyone loves the "Wild Kratts".  Play this game with your teen to enjoy sharing facts and testing your memory!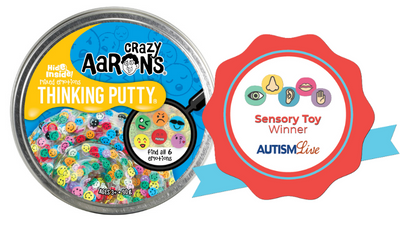 Mixed Emotions Thinking Putty
What an emotional roller coaster! Buckle up and spot the "silly" faces within the cluster of smiling ones! If you look close enough you'll always find what you're looking for with the Hide Inside!® collection. Be on the hunt for six unique pieces, whether you are looking for spontaneous expressions amongst the smiling faces or bothersome bugs throughout the greenery, you're sure to be captivated with the challenge of discovering them all!
Crazy Aarons' Thinking Putty is a treat no matter what the theme. They are good sensory fun that can help reduce stress and increase focus. We love Mixed Emotions for tween/teens because it reminds them about emotion while helping to calm them.
Parents Recommendation Toy Winner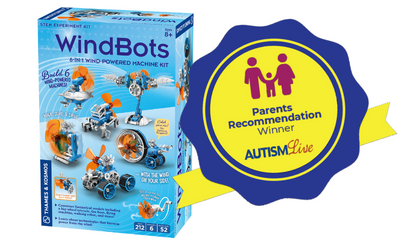 Wind Bots: 6-in-1 Wind-Powered Machine Kit
Build a big-wheel tricycle, quadruped, soaring machine, drilling monster, walking robot, and even a wind-powered yacht. To make them all go, the kit also includes the pieces to build a hand-powered wind generator. As you build and experiment, you will learn about how gears transmit power and torque. Also learn about wind as a power-generating technology — past, present, and future.
Parents love how versatile this kit is. Build 6 different machines that run on wind power or create your own machine. There are so many things to learn!
Oldie but Goodie Toy Winner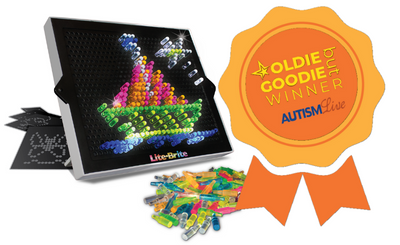 4+ years
The most fun and nostalgic way to create art with light! Retro-inspired styling resembles the original LiteBrite from the 80's and now features a bigger screen, brighter pegs, and more templates including six retro patterns! Just insert the pegs into the templates or freestyle an original design – then press the button to see the creation light-up in four different ways, from steady to blinking. With an updated stand on the back, kids can easily create and display their masterpieces…then turn off the lights for the ultimate effect!
The joy of a LiteBrite cannot be measured, only enjoyed. This is a great toy for finer motor skills, spatial planning, and building creativity.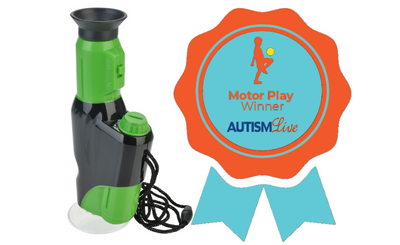 Explore It! Hand Held Microscope
7 + Years
This handheld field microscope offers 40x magnification and is equipped with LED illumination for brighter close-up viewing. Rotate the view cylinder to adjust focus. Includes a lanyard for on-the-go discoveries, outdoor or indoor.  This microscope encourages exploration and scientific observation by allowing you to go to the object instead of bringing the object to you.
It also improves focus and concentration and sharpens hand-eye coordination.
Visual motor skills are often overlooked, and yet many individuals on the spectrum demonstrate visual stereotopy. We love that this toy gives an appropriate tool for individuals to look at things in their world, through a working microscope.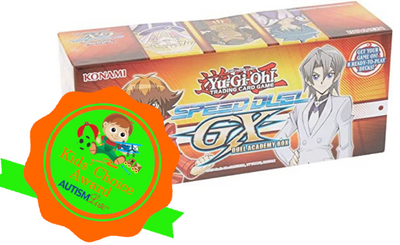 Yu-Gi-OH! Speed Duel GX: Duel Acadmey Box
6+ Years
Prepare to get your game on with the new Speed Duel GX: Duel Academy Box! Brand-new Skill Cards introduce legendary Duelists from the Yu-Gi-Oh! GX anime to Speed Duel!
Become "Elemental HERO" enthusiast, Jaden Yuki, fulfill your destiny as Aster Phoenix, teach the class a lesson as Dr. Crowler, and more! Duel in style with Secret Rare variants of popular GX-era cards!
Every person we showed this to, under the age of 24, lit up when they saw it. This was for sure the "Kid's Choice Winner" if for no other reason the delight and joy it brought to their faces!  We also love how mainstream this toy is.  Your child can sit down to play this toy with any child and have a range of topics to talk about.  This is ideal for building social skills, conversation skills, etc.
Empowering Employment Skills Toy Winner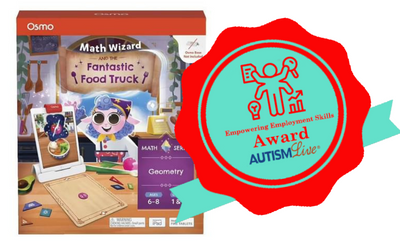 Math Wizard and the Fantastic Food Truck
Part of Osmo's new award-winning Math Wizard series that allows for fun, self-paced learning at home, Math Wizard and the Fantastic Food Truck (available for iPad and Fire) focuses on teaching kids geometry through cooking using different shapes. Players become chefs who customize dishes using several available kitchen appliances — and a dash of magic, their special ingredient to complete their dish for a magical reaction from their customers. Unique customers appear in various stages across Spellbarow Port, each with different food preferences and a variety of exotic dish requests–from pizza to sushi, sandwiches, pastries and more! Fantastic Food Truck features two games and the box contains: 1 Playmat, 1 Food Truck Manual, and 58 Geometric tiles.
Osmo will super charge your child's tablet and create a magical world where they run their own food truck. Nothing makes math more fun and experiential than Osmo.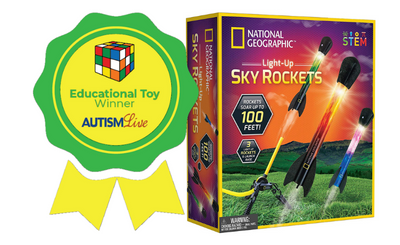 National Geographic Light-Up Sky Rockets
National Geographic Light-Up Air Rockets are an awesome addition to your collection of outdoor games and outdoor toys! Just stomp the extra-large foot pump and send your air rockets flying high—up to 100 feet in the air! Each rocket is tipped with foam and the launch base is adjustable, allowing your kids to send rockets soaring up or out. This feature gives your kids the chance to test out different launch trajectories and flight paths, and with the detailed Learning Guide, they'll learn about the science that makes the rockets fly! The stomp pad is extra-large too, so children can jump and launch with both feet to get as much airtime as possible! This activity set also encourages outdoor physical activity, fine motor skill development, and balance. It's also an extremely fun way to play for boys and girls, friends, and family to all play together!
We love the fun the whole family will have learning about physics while stomping these awesome rockets into the night sky. Learning about science has never been more fun!
Best Card/Board Game Winner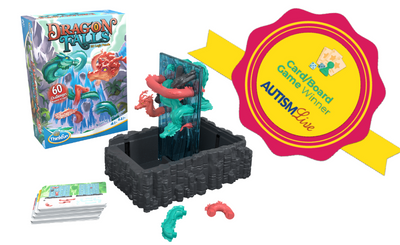 In Dragon Falls, players bring this mythical scene to life! Start by choosing 1 of the 60 beginner-to-expert level Challenge Cards and place Dragon Segments and Blockers on the vertical, double-sided Game Grid as shown. Your goal is to place the remaining Dragon Segments to complete the bodies for both the sleek Teal Dragon and the rugged Coral Dragon.
In Dragon Falls, players bring this mythical scene to life! Start by choosing 1 of the 60 beginner-to-expert level Challenge Cards and place Dragon Segments and Blockers on the vertical, double-sided Game Grid as shown. Your goal is to place the remaining Dragon Segments to complete the bodies for both the sleek Teal Dragon and the rugged Coral Dragon.
Boredom Buster Toy Winner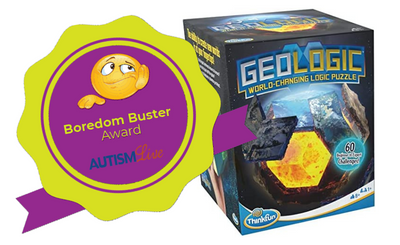 Players begin with a 30-sided planet Core and 14 different biome Tiles. Each of the 60 Challenge Cards shows a different starting position for some of the biome Tiles, and players must figure out how to position the remaining Tiles in order to complete the planet's surface. A variety of environments in different shapes provide endless unique planet combinations—but each challenge has only one correct solution! Explore 60 beginner-to-expert worldbuilding challenges with GeoLogic!
This is another winner from ThinkFun!  We love the puzzle aspect of creating different landscapes while learning about the environment of each landscape.  There is a true feeling of accomplishment when you solve a puzzle!  It is a great confidence and self-esteem builder.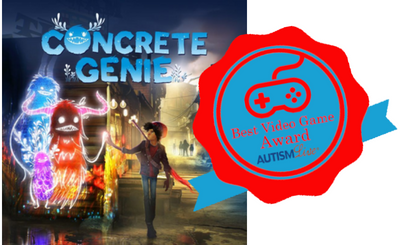 SONY Interactive Entertainment
Pick up your magic paintbrush and start painting the abandoned town of Denska back to life as Ash, the imaginative teenager at the center of this touching action-adventure, exclusive to PS4. Create your very own street art on Denska's polluted walls, and watch as the mischievous Genies you paint spring into life and come to your aid. Each Genie possesses magical elemental powers that not only help you overcome puzzles and see off your adversaries, but are also the key to changing Ash's and Denska's destiny.
This is a beautiful game that fosters creativity and problem solving. Play this with your teen to see them use critical thinking skills and imagination in fascinating ways.
Villains beware! Batman is fully equipped to fight crime with the Batmobile, a heavily armored tactical assault vehicle with prototype military grade hardware developed by none other than Wayne Enterprises. The roaring engine and powerful afterburner echoing through the streets of Gotham City will send shivers down the spines of any criminal it crosses!
This 255-piece 3D jigsaw puzzle is a reproduction of the Batmobile as seen in Tim Burton's Batman (1989) and Batman Returns (1992) movies. Hurry and assemble it before the next Batsignal hits the cloudy sky of Gotham!
This puzzle is a great way to light up the face of the tween/teen in your life. Wrebbit 3D puzzles take puzzles into the next dimension – the third dimension to be exact. We love the detail on this Batmobile, it is truly amazing.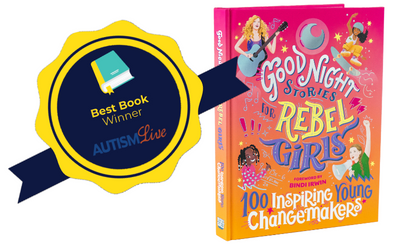 Good Night Stories for Rebel Girls
Good Night Stories for Rebel Girls: 100 Inspiring Young Changemakers celebrates barrier-breaking activists, artists, inventors, and entrepreneurs under the age of 30 leading the next generation of girls to change the world. The fifth volume of the award-winning Good Night Stories for Rebel Girls series features work by creators aged 11 to 30 including 13 contributing authors and original illustrations from 84 artists from around the world, as well as the book's editors.
We love the short vignettes of each rebel girl that are perfect for nighttime reading. We also celebrate the modeling of overcoming obstacles, which all of the women featured share. This is not a book just for girls. This is a book for all children, to appreciate the spirit of persistence.
8+ Years
Good clean fun. Just Add Soap makes science and art at home easy by using supplies you already have. This kit comes loaded with everything you need for at-home science and art experiments, all you need to do is add the missing ingredient. Discover fun clean science, viscosity, and surface tension. Learn about the geometry of bubbles, make your own soap and soap crayons. There are more than 20 different activities in this kit that time will just slip away! This kit features instructions in English, Spanish and French.
We love that when the time comes to create, this kit lets you get started right away, all you need to do is add soap, everything else is provided for you – activities, instructions and all the supplies you need. It's fun, educational and convenient!
Don't forget to check out all the fabulous toy and gift winners in other categories.
You might find exactly what you are looking for there!
We at AUTISM Live
wish you the
Happiest of Holidays!
After all of your shopping is done, if you find that you have more to give, please join us in making a donation of any size to Autism Care Today (ACT). This wonderful organization gives grants to families for things like iPads, insurance co-pays, sensory equipment, GPS devices and more. Your donation could make another family's holiday wishes come true.
TODAY and make a DONATION.