Each year Autism Live curates a list of top toys and gifts in a wide range of categories and developmental levels to help you find the perfect gift to delight the children, teens and adults in your life who are on the Autism Spectrum. This year we have chosen toys in various price ranges to help you make the perfect holiday selection.  We hope there is something to delight everyone on your list!
4+ Years
Click and print instantly with the KidiZoom® PrintCam™. Preview photos with the 2.4″ color screen and print regular or panoramic photos in black and white. Flip up the lens to take selfies! The included paper roll prints up to 80 images—that's a pennies per print value! Let your creativity loose and add stickers, filters and borders to any image or video. Turn photos into drawings you can color yourself. Browse 110+ templates and activities including small greeting cards, printable games and more. This kid-friendly camera takes videos, too!
Wow! This camera is a power-packed creative experience for your child. They can take pictures and turn them into a comic book, they can make videos, stickers and more. They can also take traditional pictures…the possibilities are endless.
Therapist Recommendation Toy Winner
Something Wild! Baby Groot Card Game
6+ years
Enjoy this fast-paced, light card game for the whole family! Featuring a collectible Baby Groot Pop! mover, as well as your favorite characters from the iconic Marvel universe.
Play Character Cards in sets and runs to score points. Power Cards add fun new twists to the classic card gameplay. Combine with other Something Wild! games to add more characters, Pop! movers, and Powers to your game! Use new Powers to swap cards, score points, and take the Baby Groot mover away from your opponents! 
This a fun, easy game to play to develop social skills. Therapists love it because it is reinforcing, who doesn't want to collect Funko figurines and use them to create powers inside a card game?
Lux Blox® Yellow Submarine
Explore the seas in your very own Yellow Submarine! Travel any distance in your trusty submarine as you explore the ocean life in the great blue beyond. Get a closer look at the sea life in your detachable Mini Sub to learn why so many creatures call the ocean home! Mini Sub comes with robotic arms for collecting samples and defending against unknown sea monsters. The Yellow submarine is made with UV sensitive neon yellow parts that will glow under black light!
It glows in the dark, y'all! If you've never played with Lux Blox, we dare you to try them. You won't be able to put them down and neither will your kids. This kit is awesome for building fun and then turning out the lights. It glows, y'all!
Speech Builder Toy Winner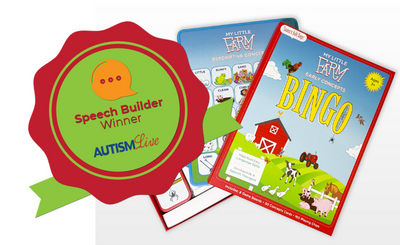 3+ Years
Invented by a Speech Pathologist!
My Little Farm Bingo is an award-winning fun, interactive Bingo Game that builds receptive and expressive language. As is true with all SmartFelt Toys, My Little Farm Bingo is not only educational, but super fun for kids as well.
We are huge fans of the My Little House series from Smart Felt Toys®. Each of their toys gives your child a rich, educational environment to develop language skills through play. My Little Farm Bingo puts all of that into a well-made game. We love it.
Social Skills Builder Toy Winner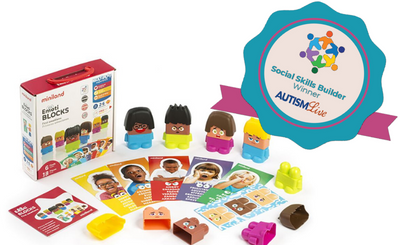 2 + Years
One of Miniland's Best Selling Toys: the delightful, colorful and engaging "Emotiblocks" – Basic Emotions. Comes as a set of characters to mix, match and mash-up interchangeable pieces to create 3D Emoticons. Young imaginations can conjure up over 100 possible combinations using the included Activity Cards. Includes 18 Pieces, Activities, plus an easy Teaching Guide.
A large part of building Social Skills is recognizing and interpreting emotions in ourselves and others. We love these blocks and their ability to create a safe environment to learn about Social Skills.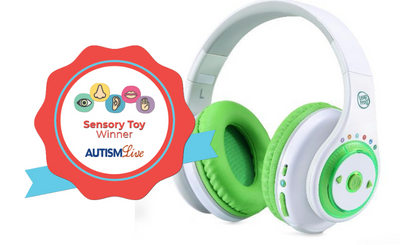 4+ Years
Get ready for an immersive audio experience with LeapPods Max! Beyond listening to music, hours of included activities take kids on audio adventures, get the mind and body moving with active challenges, introduce mindfulness activities and more. LeapPods Max are a great break from screen time and activate a different way of learning. 
We love the safety setting on these earphones, so your child can't harm their hearing by setting the volume too high. We also love the wide range of choices provided with the headphones, so your child can choose their own sensory experience.
Parents Recommendation Toy Winner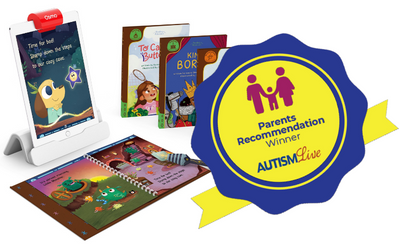 5+ years
Osmo Reading Adventure is a personalized reading program where kids build their skills and confidence through interactive games. Developed with educators, the program uses physical and digital play along with speech recognition & AI technology to cover critical reading skills from K through 1st grade (ages 5-7).  Osmo Reading Adventure includes an app (available on iOS), physical books, and an interactive crystal wand. The program also includes skill building games and activities focusing on phonics and sight reading and adapts to meet the skill level of the player (or child) for a more dynamic, fun experience.
This is an extraordinary toy that parents love! We all want our children to be good readers and Osmo makes it possible by making a truly magical experience for your child. We love how interactive the reading is and all the skills children will build simply by connecting with what they are reading. Bravo Osmo!
Oldie but Goodie Toy Winner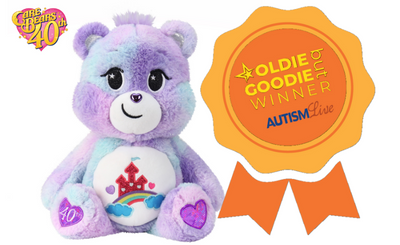 Care Bears 40th Anniversary Care-A-Lot Bear
4+ years
The Care Bears are celebrating in 2022 – what are they celebrating exactly? 40 years of "sharing and caring!" – as 2022 marks the 40th anniversary of the Care Bears, who originally launched back in 1982. In celebration of this Care Bearific milestone, Care-a-Lot Bear, the very FIRST bear to exist in the magical kingdom of Care-a-Lot, has been created to commemorate the occasion. Don't miss out on celebrating the 40th in style with this NEW bestie who's ready to bring some sparkle into your life!
A Care Bear has always been a beautiful symbol of acceptance and inclusion. It is a great plush to comfort and soothe. This special edition bear is sure to be a beloved addition to your child's world.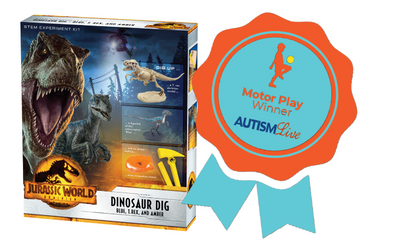 Jurassic World: Dominion Dinosaur Dig
Discover the source of our knowledge of dinosaurs! With this STEM kit, you can play the part of a paleontologist on the hunt for evidence of these fascinating creatures that once roamed Earth. Use your special hammer and chisel tools to carefully excavate models of a fossilized T. rex skeleton, a mosquito encased in amber, and a figurine of Blue, the loveable velociraptor from Jurassic World. Assemble the T. rex skeleton and then put these specimens on permanent display in your own dinosaur exhibit. Learn about how fossils are formed, how DNA traces might be found in amber, and fun facts about each of the dinosaurs.
This kit is amazing for motivating young hands to strengthen fine motor skills. We love all the educational aspects to this kit and the fact that they can display their work when they are done.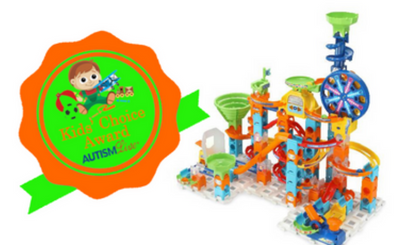 Marble Rush™ Ultimate Set™
4+ Years
Roll through thrilling stunts and exciting challenges with the Marble Rush™ Ultimate Set™. This 145-piece color-coded building set includes a spinning Ferris wheel, a swirling cone that plays a musical light show, thrilling ramps, fast tracks, extreme launchers and bases that all easily connect together.    Compete with family and friends using the exciting launchers and non-stop Ferris wheel to keep the marbles in motion and bring them back to the beginning. 
We love a good marble run and this one is award-winning. You can actually race 10 marbles at a time! Build problem solving skills while you are building ramps, it all works out in the end.
Empowering Employment Skills Toy Winner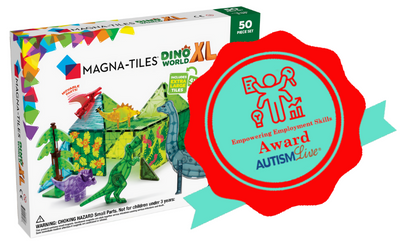 Dino World XL 50-Piece Set
This XL Dino World set is larger than life with oversized tropical-themed tiles — plus all six of the Magna-Tiles® dinosaurs, and new-to-the-world magnetic trees. Dino enthusiasts will have a rawr-some time building, pretending, and learning through play!
This truly lush set will delight the building lover of any age, but the addition of dinosaurs takes this set to another level. We love the planning and pretending skills this toy will foster which paves the way for all kinds of employment skill building!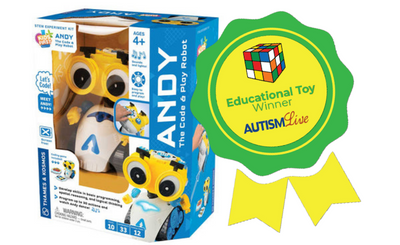 Andy: The Code & Play Robot
Learn basic programming skills while having fun with Andy, The Code & Play Robot. Andy is ready to program and play with right out of the box — you just need three AA batteries. You program the robot by pressing big, intuitive buttons on the top of its head — no app or tablet required!   Andy lights up and has two movement modes, meaning it can travel different distances depending on which mode it is in. Andy can even play music and dance!
Andy is the perfect toy to spark an interest in robots and/or coding. He provides hours of interactive fun all programmed by your child!
Best Card/Board Game Winner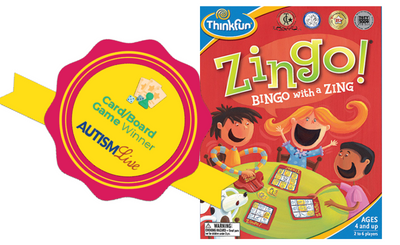 4+ years
Bingo with a Zing! Zingo! is a fun pre-reading game. The Zingo Zinger dispenses tiles and kids quickly race to be the first one with a full card and yell Zingo.  Perfect for pre-readers and early readers,  Zingo builds language and matching skills in preschool kids through fun, fast-paced play. Zingo is as popular in the classroom with teachers as it is in the home with families!
This is a great game for teaching sight words. It is fast paced and packed with excitement while everyone works to declare Zingo!
Boredom Buster Toy Winner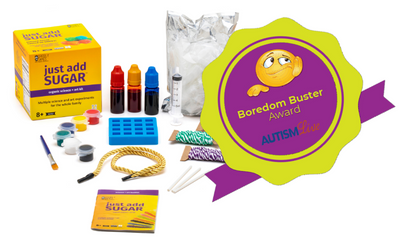 8+ Years
It's sweet fun and educational. Just Add Sugar makes science and art at home easy by using supplies you already have. This kit comes loaded with everything you need for at-home science and art experiments. All you need to do is add the missing ingredient. ⁠This bio-organic STEAM kit will sweeten the interests of artists and scientists alike! 
This is a perfect rainy-day activity for bored kids, or something to do to bond with relatives who are having trouble making a connection. Easy instructions and a kit full of goodies will turn plain household sugar into a science experiment, a conversation starter, even a sweet treat.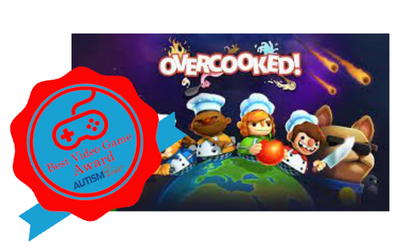 Overcooked is a chaotic couch co-op cooking game for one to four players. Working as a team, you and your fellow chefs must prepare, cook, and serve up a variety of tasty orders before the waiting customers storm out in a huff.
This game is hilarious and fun for the whole family. It teaches cooperation, how to handle failure, how to communicate what you need in order to succeed and so much more. It is addictive good fun.  This game is available on Switch or Steam and there is even an Overcooked 2 if you love it as much as we did.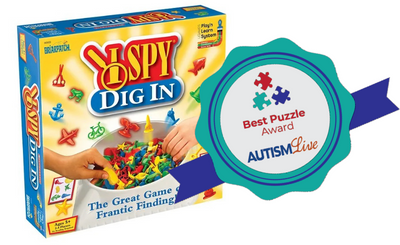 5+ Years
The Great Game of Frantic Finding!
Are you ready to play? Then dive right in and dig away. Race the clock, it's not so hard! Dig out 6 objects, place on your card. When each player has gone ALL IN, match one more for the win!
I SPY Dig In is the great game of frantic finding based on the best-selling I SPY book series by Jean Manzollo and Walter Wick.!
This game is great for working on vocabulary, fine motor skills, social skills and problem solving making it a great puzzle solving game!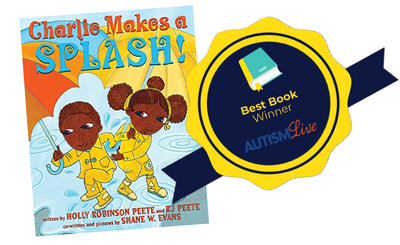 By R.J. Peete and Holly Robinson Peete
Like many kids on the autism spectrum, Charlie finds solace and empowerment in pools, ponds, sprinklers, visiting the aquarium, and swimming in the ocean. Through his adventures and discoveries, he shows the world that even though he has autism, autism doesn't have him.
Readers learn that kids who may experience the world in different ways can help us see the wonders of swimming to your own rhythm.
This is a lovely companion book to the award-winning My Brother Charlie book. We love that it addresses the very real fascination many children on the spectrum have with water in a positive and productive manner. This is a great conversation starter for talking about sensory needs as well.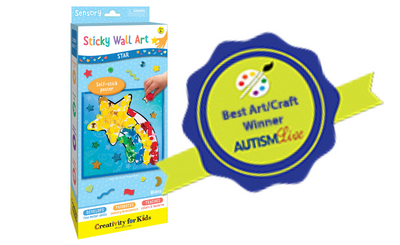 3+ Years
No glue needed! Designed with little fingers in mind, simply fill in the 13" x 13" sticky picture with the colorful sensory craft materials included.This calming craft builds creative confidence and encourages independent, quiet time play.
This sensory activity helps develop fine motor skills, color-matching and hand-eye coordination skills.
The low-tack hanging strips provide a safe and accessible craft surface that can be played and displayed on walls, doors and other flat surfaces
We love the no mess aspect of this great art project. It's perfect for that rainy day when you need an activity but don't want to make a big mess. Create and have fun, then enjoy the artwork!
Don't forget to check out all the fabulous toy and gift winners in other categories.
You might find exactly what you are looking for there!
We at AUTISM Live
wish you the
Happiest of Holidays!
After all of your shopping is done, if you find that you have more to give, please join us in making a donation of any size to Autism Care Today (ACT). This wonderful organization gives grants to families for things like iPads, insurance co-pays, sensory equipment, GPS devices and more. Your donation could make another family's holiday wishes come true.
TODAY and make a DONATION.