Each year Autism Live curates a list of top toys and gifts in a wide range of categories and developmental levels to help you find the perfect gift to delight the children, teens and adults in your life who are on the Autism Spectrum. This year we have chosen toys in various price ranges to help you make the perfect holiday selection.  We hope there is something to delight everyone on your list!
Touch & Explore Activity Table™
Touch & Explore Activity Table™
6 + Months
Discover six sensory play zones with the sit-to-stand Touch & Explore Activity Table™! Start with floor play, then switch to table play when your child can stand on their own. Activities on the interactive tabletop introduce kids to animals, colors and numbers with 90+ songs, melodies, sounds and phrases. Touch, press and spin to practice fine motor skills.  
The Touch and Explore Activity Table is the top toy because it does everything!  It is an amazing educational toy, teaching animals, colors, numbers, shapes, songs and more.  It's great for motor skills, imaginative play, expressive and receptive language building and it grows from baby years to toddler years.  
Therapist Recommendation Toy Winner
10+ Months
To fully support representation and acceptance of others, Miniland, makers of classroom toys and games focused on social and emotional learning, has launched their new line of dolls reflecting children with Down syndrome, with Hearing Implants, and with Glasses. The dolls come in various ethnicities and showcase the sweet facial characteristics of babies with Down syndrome in a realistic and respectful way. 
These beautiful anatomically correct dolls smell wonderful! Therapists love the cultural specificity of these dolls. They give children the opportunity to play with a doll that looks like them. Powerful social skills can be taught by simply playing with a doll and caring for it.
Stacks of Circles Stacking Rings
This STEM toy features a straight post that accepts different sized rings, strengthening hand-eye coordination. The chunky rings make it easy for baby to grasp, strengthening fine motor skills. Each ring features a different texture and weight; Textural variety is great for mouthing! Colorful beads in the clear ring allow baby to connect the sound to sight. BPA Free
Sassy has thought of everything to make this class toy super charged for babies looking to build. We love the textures, colors, and sounds that are ideal for small hands.
Speech Builder Toy Winner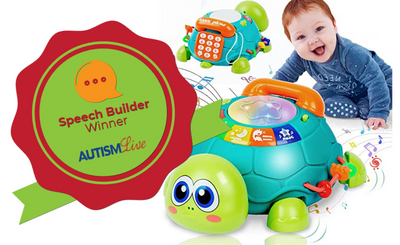 18+ months
This 6-in-1 educational toy for kids enhances development of the brain. There are various learning areas like alphabets, numbers, lullabies, animal sounds, drum and telephone call. The interesting phone call pretending and drum play attract babies to interact with parents or little friends. 
This turtle incorporates interactive play with motor skills and imaginative play with a phone, all of which sets a stage for early language development.
Social Skills Builder Toy Winner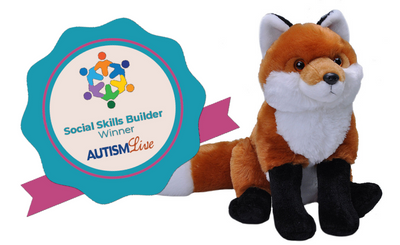 This clever, sneaky red fox is on the prowl for adventure. His long legs are built for speed, while his thick reddish brown fur and bushy tail help keep him warm. Learn a few tricks from this sly 12-inch stuffed red fox, and start your own adventure!
We love this lifelike stuffed fox and his Wild Republic friends. Plush pets are a great way to build a base of good social skills like shared attention and joint attention, plus your baby will love their soft fur.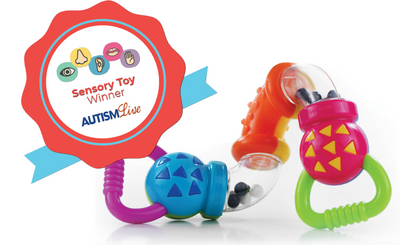 3+ Months
Engage baby's multiple senses with this unique rattle activity toy. Bend and twist, shake and listen, tilt and see. Grasp the 2 handles and twist in either direction for clicking sound. Triangles on the handles and bumpy dots in the middle add textured stimulation.
We love all the sensory input from Twisty Clicks. Babies and Toddlers will enjoy the click, rattles, nubs and colors featured on this fun toy.
Parents Recommendation Toy Winner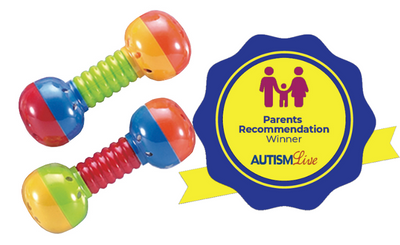 Give baby's gross motor skills a head start with this delightful pair of barbell shaped rattles. Very lightweight and easy to grip. Helps support a symmetrical balance of muscular, skeletal and neural development on both sides of the body.
Parents love how colorful and portable these Baby Barbells are. They are a great addition to a diaper bag to keep baby engaged while on the go!
Oldie but Goodie Toy Winner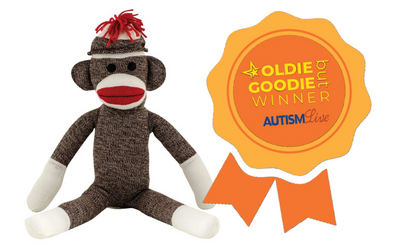 This monkey plush toy features surface-washable, huggable, and fun-knitted love for kids. Based on the original plush toy with embroidered eyes and mouth this doll is suitable for all ages.
These super soft sock monkeys are the perfect addition to any nursery. They are a blast from the past sure to spark connection with grandmas and grandpas.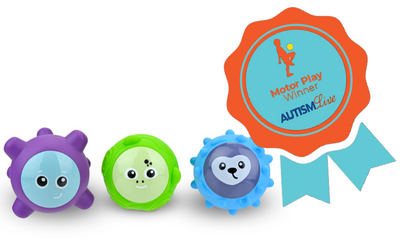 18 months+
Explore the unique, different texture on each of these 3 adorable, squishable sensory balls, each shaped like a fun creature that kids love to touch: a Hedgehog with rounded nubs, a Sea Urchin with large nubs, and a Tortoise with shell texture. Squeeze each animal for squishing sound. Shake each for a surprise rattle sound. 
We know that skills like riding a bike, handwriting and many others benefit from early ball play skills. We super love the sensory aspects of these balls and the secret that makes them wobble. Small hands will play longer due to all of the design elements that make Tactile Pals so special.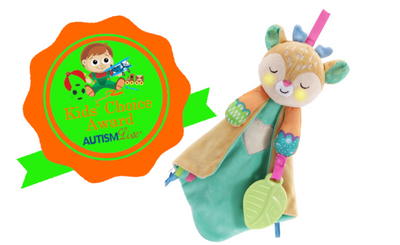 3 in 1 Snuggle & Cuddle Lovey
Birth+
Cuddle up to the three-in-one soft fawn, lovey blanket and pacifier holder with the 3-in-1 Snuggle & Cuddle Lovey™. With soothing nature sounds and music, this snuggly woodland creature brings comfort to your baby. Unfold the fawn to create a little lovey blanket with an attachment for the included leaf teething toy or a pacifier (not included). As babies reach for the teether toy and bring it to their mouths, they practice fine motor skills and hand-eye coordination. 
We love a toy that multitasks and the 3 in 1 Snuggle & Cuddle Lovey ticks all the boxes. Kids loved this toy because they knew it would comfort younger siblings while giving them something fun to play with!
Empowering Employment Skills Toy Winner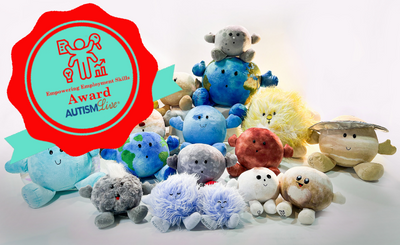 Celestial Buddies' Plush Planetary Pals and Cuddly Cosmic Companions are a source of both comfort and inspiration. Children (and also adults) obviously enjoy hugging and playing with them, but these plushies are also a source of useful information about the Sun, Moon, the Planets and more. The name of each Buddy is monogrammed on its right foot, and an educational hang tag provides both vital statistics and fun facts about the celestial body each Celestial Buddy represents. Moreover, the opportunity to collect all the objects in our solar system provides motivation for even more learning and exploration.
It's never too early to begin preparing young minds for employment and careers. These fun plushies make great connections for a future love of science, space and astrology.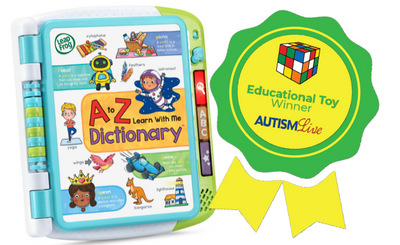 A to Z Learn With Me Dictionary™
3+ Years
Bolster kids' budding vocabulary skills with the A to Z Learn With Me Dictionary™! Every page includes engaging, touch-sensitive pictures paired with 200+ words. Simply touch to hear each word and definition read aloud in Explore mode. Color-coded beginning letters help kids learn about alphabetical order and phonics in Letter mode as they hear letter names and sounds. Game mode includes activities that reinforce learning with letter searches and word hunts in categories like food, animals and more.  
The A to Z Learn With Me Dictionary makes learning fun. LeapFrog® rates this for ages 3 and up, but we like it even earlier for SUPERVISED PLAY to lay the groundwork for interactive learning.
Best Card/Board Game Winner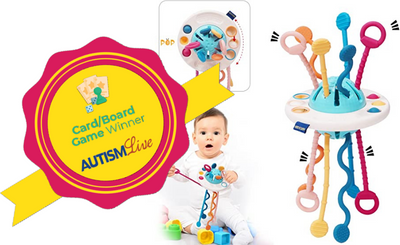 1+ year
This rocket-shaped sensory toy is an excellent early educational toy, with powerful learning functions. With this Montessori toy, your baby can distinguish colors, shapes; develop fine motor skills while pulling or teething.
This unique toy offers your baby lots of fun ways to play, teethe and learn all at the same time.
Boredom Buster Toy Winner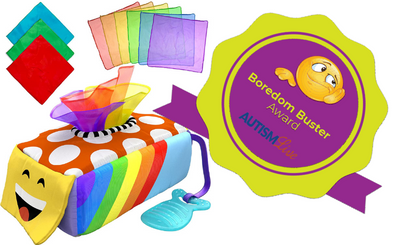 Montessori Baby Tissue Box
6+ Months
Five colorful panels introduce your baby to vibrant colors and fun shapes, along with cute animals, rainbows, and fuzzy stars. Color sorting helps promote cognitive skills while different textures trigger sensory exploration. The peek-a-boo mirror side panel reveals a "look at me" mirror with a fuzzy frame that helps your baby with facial recognition. Laugh along as they learn and play!
This Baby Tissue Box will bring hours of joy as your baby pulls different fabrics from the magic box. Squeak the squeaker as your baby pulls to make it even more fun.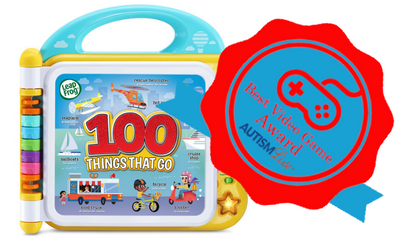 6+ Months
Take a road trip to the land of learning with the 100 Things That Go™ interactive book! Hear 100+ words about modes of transportation from dog sleds and dump trucks to skates and school buses. Six double-sided, touch-sensitive pages feature vocabulary in English and Spanish. Simply flip the language switch to hear words, phrases and descriptions in either language. Triple the fun with three play modes so you can learn about Words, Sounds and Fun Facts on every page of this bilingual book for kids. 
100 Things That Go™ is the perfect toy for baby play when older siblings are engrossed in screen time. There are so many things for little ones to interact with and learn from. It will provide hours of entertainment while in the car pool lane or stuck waiting at the Doctor's office.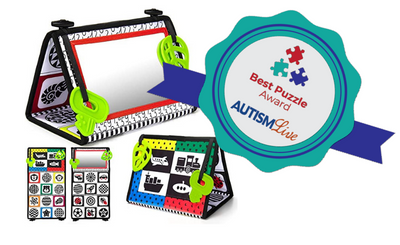 Tummy time play helps strengthen baby's leg and arm muscles to prepare to crawl, delight brain development and enhance hand-eye coordination. The baby mirror calendar is very lightweight, easy to fold and can be used on the go. It is an early development toy to stimulate important key skills, like eye-hand coordination, overall motor ability, self-awareness, object persistence and causality.
We love all the elements included in this toy that seek to stimulate a baby's interest without overwhelming their senses.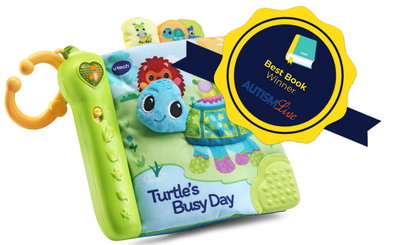 Turtle's Busy Day Soft Book™
3+ Months
Get your baby's learning story started with Turtle's Busy Day Soft Book™! Meet Turtle's animal friends and find a surprise on every interactive page. Each page offers something for your baby to discover: lift the flap, explore textures and sounds, and find the peek-a-boo mirror and caterpillar finger puppet. The exploration doesn't stop there—your baby can press the three animal tabs to hear animal sounds, fun facts and words to help develop early language skills. 
Turtle's Busy Day Soft Book™ is a lovely way to introduce interactive reading with your new baby. There are so many things to touch, feel, and experience for both the reader and the baby, it is a great way to build early joint attention skills!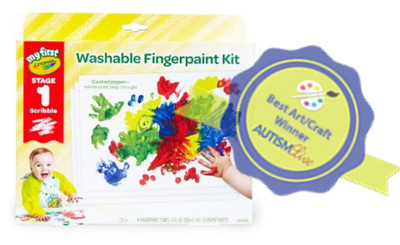 Stage 1 Washable Fingerpaint Kit
1+ year
This fingerpaint kit is the perfect activity for your toddler to begin exploring color. The washable paints come in 4 tubes of bright colors (red, yellow, green, blue) that are easy to clean up. Also includes 10 large sheets of special paper with plenty of room for little fingers to spread, swirl and mix colors.
This is an ideal way to introduce toddlers to art and the joy of creating. Work on colors and fine motor skills while you have a creative experience that is easy to clean up.
Don't forget to check out all the fabulous toy and gift winners in other categories.
You might find exactly what you are looking for there!
We at AUTISM Live
wish you the
Happiest of Holidays!
After all of your shopping is done, if you find that you have more to give, please join us in making a donation of any size to Autism Care Today (ACT). This wonderful organization gives grants to families for things like iPads, insurance co-pays, sensory equipment, GPS devices and more. Your donation could make another family's holiday wishes come true.
TODAY and make a DONATION.