Each year Autism Live curates a list of top toys and gifts in a wide range of categories and developmental levels to help you find the perfect gift to delight the children, teens and adults in your life who are on the Autism Spectrum. This year we have chosen toys in various price ranges to help you make the perfect holiday selection.  We hope there is something to delight everyone on your list!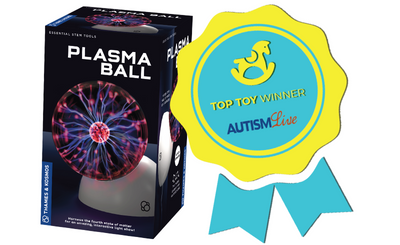 Marvel at the wonders of the universe with this mesmerizing electric light show. The plasma ball creates a fascinating display of glowing electric tentacles, like lightning flowing from your fingertips. Learn about electricity, matter, and energy and bring physics to life with electrifying experiments. An interactive electricity light show.
We love the sensory wonder created by Plasma Ball and its ability to create an environment of decompression. It can simply serve as decoration or it can be a tool for interaction, connection and experiments. That's a Top Toy!
Therapist Recommendation Toy Winner
Bring your circus ideas to life and become a ringmaster with the award-winning Carnival Set. Learn to build a ferris wheel, carousel, and other great circus rides! Add accessories to your geometric shapes and design whirling, spinning creations.
This is a great magnetic building kit that add the ability to make things turn and spin. Builders will delight in the colorful tiles that snap together easily, with endless options for creativity.
Roll the die – place a ladder – catch the moon! Climb through the clouds and reach for the moon! All it takes is a few cleverly placed ladders, a steady hand, and a bit of imagination. Reach for the moon, but don't stretch yourself too thin, or you may lose the ladders under your feet. With the right mix of suspense and risk taking, you will ascend to success.
This is a gorgeous, clever game that allows players to precariously stack ladders in an effort to catch the moon.  Players will use fine motor skills, problem solving, critical thinking and focus to get their ladder closer to the moon.
Speech Builder Toy Winner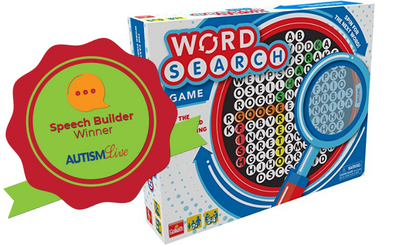 The race is on with this exciting version of the classic hidden word puzzle – it turns a solitary activity into a fun group word game as players go on a word search. Rotate the specially-designed circular board to reveal the word that the players will race to find on this turn. Everyone plays at once, and the first player to locate the word marks it with transparent colored tiles. 
This is a great game for building vocabulary and nurturing speech in a fun and organic way. Get the whole family involved and enjoy the conversation opportunities that develop.
Social Skills Builder Toy Winner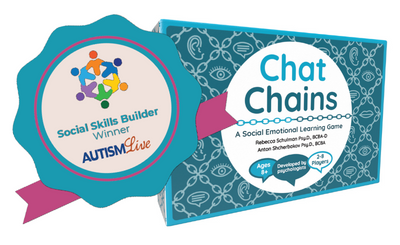 Chat Chains is an award-winning game that helps families talk about what really matters. Designed by two psychologists, it helps kids on the spectrum open up about their feelings and practice social skills.
This is an easy way to nurture social skills and to language the feelings around social interaction. Take this game on a long car trip and allow passengers to pick the card they would like to use to create a chat chain.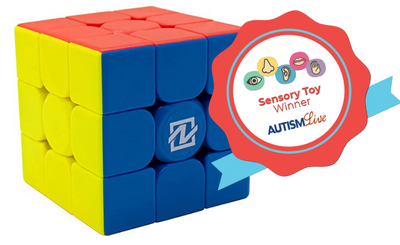 Are you ready to try your hand at beating the World Record for fastest cube puzzle completion? NEXcube by Goliath offers unparalleled, ergonomic sliding action with adjustable elasticity designed to fit any cuber's personal style. With a flick of the wrist, users can customize flexibility to meet the needs of even the most adept speedcuber.
This new puzzle cube features an extra-smooth spring loaded turning device that makes solving the puzzle faster, easier and a more gratifying sensory experience.
Parents Recommendation Toy Winner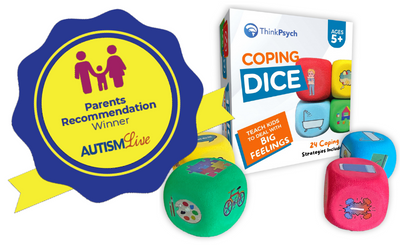 Coping Dice are a unique and exciting way to teach kids on the spectrum how to deal with big emotions. These fun and colorful dice feature 24 different coping skills. See if you can master them all! 
We love the gentle prompting of this sensory-friendly dice. The dice give multiple options for how to deal with emotions that have the potential to overwhelm.
Oldie but Goodie Toy Winner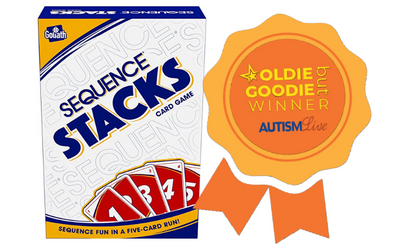 We've all played SEQUENCE, but you've never played a version like this before! Your goal is to get a SEQUENCE – this time, with cards! On your turn, try to play the cards from your hand or the top card from your discard pile to create runs of 1-5 on the decks in the middle. Complete the run to capture the SEQUENCE and earn a matching colored SEQUENCE chip. The first player to earn 5 SEQUENCE chips, made up of at least two blue and two red, wins! 
This card game will bring back tons of memories and create new ones. This is a great activity to connect adults with older relatives that might be struggling to find conversation topics with adults on the spectrum.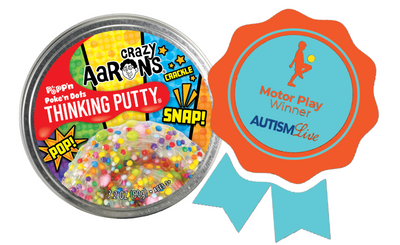 Putty that crackles, pops, and snaps! This cheerful blend of rainbow-colored beads make up Poke'N Dots. Perfect your popping techniques to hear the magical sounds. The "poppabilities" are endless!
We love this wonderful version of a "pop toy" that can easily fit in a pocket for on-the-go flexibility. Everyone will enjoy the satisfying pop this thinking putty provides. This is a great stocking stuffer!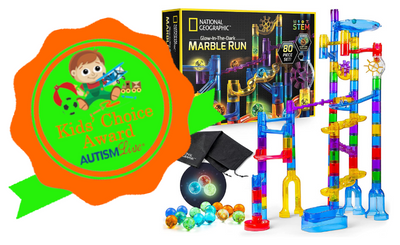 National Geographic Glow in the Dark Marble Run
The National Geographic 80-Piece Glow-in-the-Dark Marble Run Construction Set has everything kids or adults need to create incredible marble runs, including pieces that fit securely together so you can be sure that your marble run maze won't fall apart, that will have their glowing marbles racing toward the finish line! Configure the pieces in any design you'd like! The detailed learning guide has lots of information about the physics of motion and gravity, so builders can learn while they play! And when they're all done, a convenient storage bag is included so you can keep all the marble run pieces stored together.
We love the glow-in-the-dark feature of this marble run! Even the marbles glow. Build, problem solve, create – then turn off the lights and race. It's fun for the whole family.
Empowering Employment Skills Toy Winner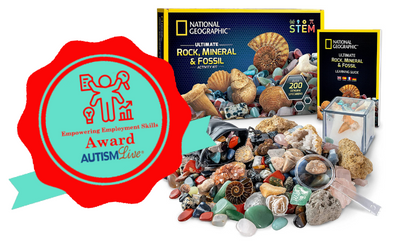 National Geographic Ultimate Rock, Mineral and Fossil
The National Geographic Ultimate Rock, Mineral and Fossil Kit is an incredible collection of natural wonders from all over the world. A perfect standalone collection or addition to any kid's rock collection. Includes rough and polished samples of aventurine, rose quartz, stunning snowflake obsidian, desert rose, red jasper, blue quartz, pumice, and geode specimens, as well as real fossils including prehistoric gastropods, ammonites, clams, brachiopods, and more. The included magnifying glass, full-color learning guide, and identification sheet will help you to sort and identify every rock, gemstone, mineral, and fossil in the collection.
This is the perfect gift for the rock lover in your life or nature loving fan that hasn't yet discovered a love of fossils. We love how hands on you can get immediately after opening the box. It's a great kit that can spark a career path.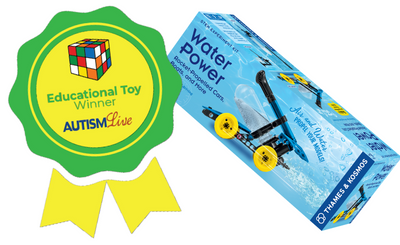 Water Power: Rocket-Propelled Cars, Boats and More
Harness the power of air and water to make things move! Build water-rocket cars, jet-propelled boats, a water gun, and even a lawn sprinkler. Learn about the laws of physics and their applications in real-world engineering. When you pump air into your rocket, you increase the air pressure inside. Then when you release the clamp, watch out — the air and water mixture inside will shoot out, causing your rocket to zoom off in the opposite direction! Many machines, from the oldest pipe organs to modern day rocket ships use the same technologies that power your water rockets. Experiment to test some of the differences between water and air, and learn why your rocket needs both to go fast.
We love experiential learning, and this kit delivers! Your favorite builder will have hours of fun while honing problem solving skills and learning practical science facts.
Best Card/Board Game Winner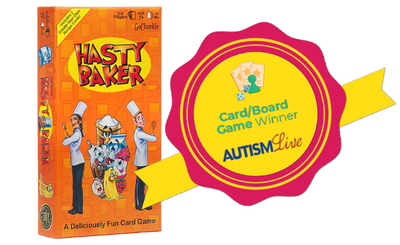 Hasty Baker is an award-winning family card game that all ages love to play. Players race to collect the ingredient cards listed on their delicious dessert recipe card. Along the way, they work to get ahead of others using cards that can give them additional points or slow others down. When they finish a recipe, they get a point and draw another recipe card. A clever use of strategy will get you the 5 points you need to win the game. The beautiful artwork and highly interactive gameplay keep players coming back for more. Hasty Baker has received rave reviews from kids, teens, parents, and grandparents who all love playing together.
Hasty Baker is so much fun we had to give it another award this year. This game is a delightful way to have the whole family connect, laugh, and spend quality time together. We also love the way it strengthens executive function and planning skills.
Boredom Buster Toy Winner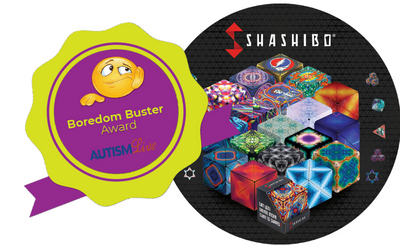 Unlock the mystery of Shashibo (the shape-shifting box)! Just 1 magically mysterious Shashibo transforms into over 70 shapes. Will you be able to discover all 70 + shapes one cube can make? Various designs to choose from! What's more, you can collect & connect them together! With 36 rare earth magnets in each cube, you can combine several Shashibo to expand your puzzle cube into another dimension. Build larger geometric shapes and create unlimited possibilities as you add cubes. Each cube is 2.4″ Then it expands and becomes bigger as you transform it into various shapes. 
Oh Shashibo! How we LOVE you! This little cube is hours of fun. It's a sensory good time of exploration, experimentation and problem solving. Super Fun!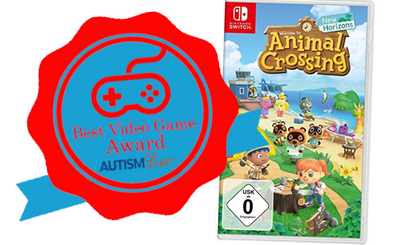 Animal Crossing New Horizons
Escape to a deserted island and create your own paradise as you explore, create, and customize in the Animal Crossing: New Horizons game. Your island getaway has a wealth of natural resources that can be used to craft everything from tools to creature comforts. You can hunt down insects at the crack of dawn, decorate your paradise throughout the day, or enjoy sunset on the beach while fishing in the ocean. The time of day and season match real life, so each day on your island is a chance to check in and find new surprises all year round.
This is a popular, mainstream game that provides hours of enjoyment that is both personally and socially empowering. Players create an island getaway that is customized to their specifications while they build, create, and interact. There is a social option that allows for interactive play with known and unknown players. This option, in the right players hands, is a great way to hone social interaction skills.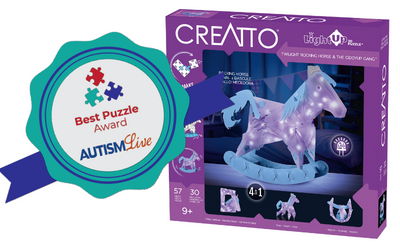 Creatto Twilight Rocking Horse & The Giddyup Gang
With 57 Creatto pieces and a string of 30 LED lights, you can build an adorable rocking horse, a pony, an equestrian trophy, and a horse peeping its head through a stable window. Creatto is a simple yet versatile building system that consists of just two primary components that can be woven together into countless 3D creations. The flexible yet durable plastic tiles interlock quickly and easily for all skill levels; no additional materials or hardware required!
Wow! This puzzle can connect in countless ways to create a nightlite for the horse loving adult in your life. We absolutely LOVE the fact that it has different skill levels to accommodate all learners.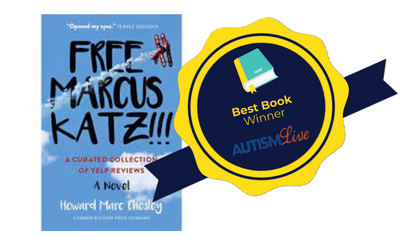 From 2019 Booker Prize nominee Howard Marc Chesley, an inspiring and humorous new novel. Woven into his funny, chatty Yelp reviews of restaurants and businesses, 22-year-old Aspie Marcus Katz chronicles in vivid, oversharing detail how, after the death of his doting mother, he is railroaded by the Los Angeles probate court into an abusive conservatorship. When his bullying conservator tries to warehouse him in a dead-end group home and drain his inheritance, Marcus  strikes out on his own. An online community of millions follows with breathless anticipation as a young fugitive chronicles in real time an emotion-filled journey of escape and romance on his favorite medium and confessional: Yelp.
We adore this empowering book about a young adult on the spectrum who advocates for himself and finds his own path and his own community, despite huge challenges. This is a great book to spark conversations about where adults will live and how they will live after parents have passed.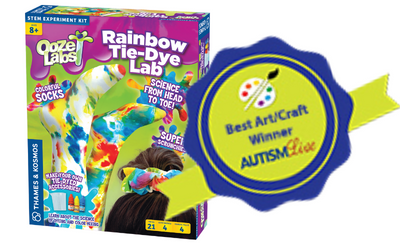 Ooze Labs Rainbow Tie-Dye Lab
Science meets fashion in this make-your-own tie-dye science lab. Tie-dye two fabric scrunchies and two pairs of socks using non-toxic red, blue, and yellow dyes. Mix them up to create all the colors of the rainbow — red, orange, yellow, green, blue, and purple! A full-color manual guides you through the steps for creating different types of groovy tie-dye patterns. Or invent your own method! Create your dye solution like a scientist by using the included measuring beaker. As you go, learn about the science and art of dyeing fabrics. Explore color mixing and learn about why your eye sees colors. Look fabulous in your new tie-dye gear and feel fabulous about all the knowledge you gained!
We love the way this kit makes cool clothing items by utilizing and explaining the science behind color. This is a great way to allow creativity to flourish!
Don't forget to check out all the fabulous toy and gift winners in other categories.
You might find exactly what you are looking for there!
We at AUTISM Live
wish you the
Happiest of Holidays!
After all of your shopping is done, if you find that you have more to give, please join us in making a donation of any size to Autism Care Today (ACT). This wonderful organization gives grants to families for things like iPads, insurance co-pays, sensory equipment, GPS devices and more. Your donation could make another family's holiday wishes come true.
TODAY and make a DONATION.