Don't forget to check out all the fabulous toy and gift winners in other categories.
You might find exactly what you are looking for there!
Each year Autism Live curates a list of top toys and gifts in a wide range of categories and developmental levels to help you find the perfect gift to delight the children, teens and adults in your life who are on the Autism Spectrum. This year we have chosen toys in various price ranges to help you make the perfect holiday selection and to build new connections.  We hope there is something to delight everyone on your list!
Shapes & Sharing Picnic Basket™
6+ Months
Learn about colors, shapes, manners and more while on a pretend picnic with the Shapes & Sharing Picnic Basket™. Lift the lid to hear cheerful phrases and unpack the 15 play pieces, including colorful plates, forks, cups and food. The interactive shape sorter on the lid recognizes the food pieces and says the shape and color of each one. Hear polite food requests and delightful learning songs by pressing the butterfly button. Drop the correct food in the basket for rewarding responses that encourage good manners. Learning's a picnic with this friendly basket!
We love this toy for its shape sorting but also for it's functional pretend play with food!  There are so many ways to play, so many things to learn.  It even teaches manners!
Therapist Recommendation Toy Winner
A different way for young children to acquire skills and personal autonomy. They contribute to the development of manual skills. The child will learn to dress and undress him/herself through playing with the dolls: fastening buttons, zippers, snaps, shoe laces, buckles and more, while playing with dolls in their traditional multi-cultural outfits. These dolls help them develop respect for the diversity of races and genders, and learn about their community and others communities around the world.
Available in 4 options: Hispanic Boy, Asian Girl, African Girl, Caucasian Boy
These very special dolls teach all of the adaptive skills involved in dressing: zipper, snaps, buckles and more.  They are also delightfully diverse making them a huge hit with us!
Exploring Engineers Grooves & Gears
4+ Years
This versatile building kit designed
especially for young kids includes 24 colorful pieces sized large for little
hands.  The pieces slot and snap together
easily to assemble 5 different engineering models with rotating parts.  Kids can learn the fundamentals of how gears
and pulley systems operate.  Includes
easy-to-follow illustrated instructions.
We love how much flexibility this gives small children to build and create a moving machine!  Kids who love to build will truly enjoy this toy, and those who don't yet build will be quick converts.
Speech Builder Toy Winner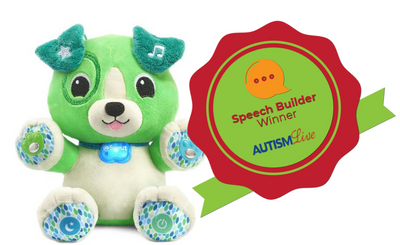 My Pal Scout Smarty Paws™
6+ Months
Cute, cuddly, and customizable, My Pal Scout Smarty Paws™ makes the perfect friend for your little one. Touch-sensitive front paws feature sensors that begin silly reactions, music, games and mindfulness exercises when little ones hold both paws and stops when they let go to introduce cause and effect. Scout's paws can help create magical moments for kids and caregivers when they hold hands with each other and the toy adding an interactive experience everyone will love.  Scout will introduce your child to first words, counting, and feelings and emotions. He'll even teach your child how to spell their own name! Scout's ears and back paws also have little surprises.
We all fell in love with Scout! He is adorable and teaches so many things.  We especially love the ability to program the child's name and some of their favorite things into Scout's speech.  Scout is truly magical in a child's hands.
Social Skills Builder Toy Winner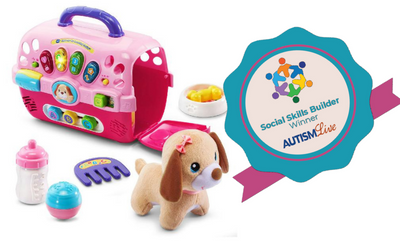 Care For Me Learning Carrier™
Care for Me Learning Carrier™ is an interactive pet carrier that lets little ones take their plush pet anywhere! Put the plush puppy inside or take him out of the carrier and hear playful phrases when opening and closing the door. The activity panel on the side of the carrier is packed with learning fun! Press the light-up buttons to learn about colors, shapes, pet care and more. Sliding the letter beads introduce letters and play music. Sliding the window and spinning the roller add to the fun and encourage motor skills. The carrier also includes four pet care accessories so toddlers can groom, feed and play with the cuddly puppy. Take your plush pet everywhere!
Taking care of a pet is a great way to teach early social skills, especially when the pet is a plush toy that can survive any learning curve.  We love how comprehensive this toy is so the child can truly care for their pet while developing a wide set of skills including responsibility.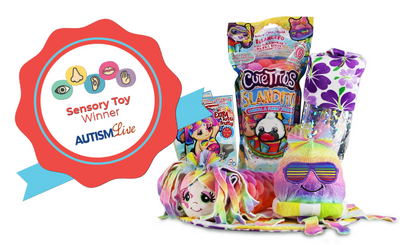 3+ Years
Cutetitos Islanditos are adorable, super-soft, stuffed animals wrapped and hidden in island-inspired blankets ready to be unrolled and discovered! To find out if your Cutetito's personality is yummy, so yummy, extra yummy, or super yummy, just check out its "hot spot" – a sun shaped icon you can find on its hip! A pet collector card is included with additional information about your new pet including its species, name, birthday and "hot spot." Each Cutetito Islandito comes scented with a fun new island-themed fragrance! From enchanting mermaids to dazzling rays —which new friend will you unwrap? Collect all 10!
There is something deeply satisfying for many of our kids when they "unwrap" a reveal toy. We love how fun and inventive this toy is, it's a great stocking stuffer.  There are 10 different options and each one has its own fragrance, so the surprises never end.
Parents Recommendation Toy Winner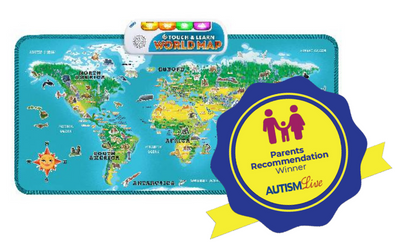 4+ Years
Discover the world's continents, natural wonders, animals, and more with the Touch & Learn World Map™. Hang the illustrated map on the wall and start exploring! 200 interactive touch points invite kiddos to look, touch, press and listen to learn about the world in Explore mode. 1000+ fun facts help kids find out about oceans and continents, natural wonders, countries and languages, animals and habitats, landmarks and more. 
Parents love how interactive this map is! It is a beautiful addition to your home the whole family will enjoy exploring. Discover new places in the world and the animals that inhabit them. We also love the game feature!
Oldie but Goodie Toy Winner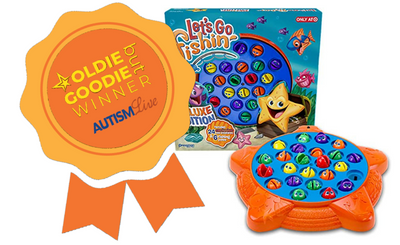 4+ Years
Get ready for some real fun with the Let's Go Fishin' Deluxe Edition! This classic  kids game, complete with 24 exclusive sea creatures
Features a rotating pond and sea creatures that open and close their mouths
Use the mini fishing poles to try to catch the most sea creatures. 
Autism Live says: This classic game is a fan favorite with the whole family. Catch the fish, but work on fine motor skills, colors, problem solving and much more, all while having a blast from the past.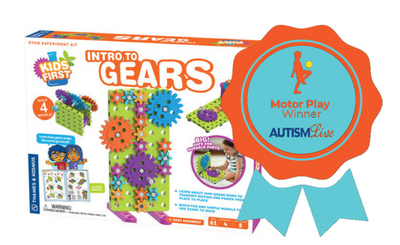 Kids First: Intro to Gears
3+ years
Gears make things move! Join Ty and Karlie — the young engineers featured in the other Kids First early engineering kits — to build four awesome geared machines and learn all about how gears work. This introductory mechanical engineering kit for kids ages three and up features 61 durable, reusable, easy-to-handle pieces, ensuring long-lasting fun and exploration.
We love this introduction to moving parts which will make working on fine motor skills pure fun! Getting small hands ready for handwriting skills doesn't have to be boring or repetitious, it can be exciting, educational and delightful!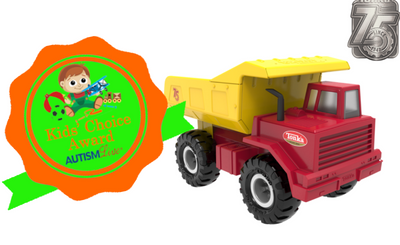 Tonka Commemorative 1968 Mighty Dump Truck
3+ years
This limited series edition celebrates the 1968 Tonka Mighty Dump Truck featuring a fire red cab, golden dump bed, with original markings. It includes a Tonka 75th anniversary badge. Great for kids and collectors alike, this special edition is made with cold-rolled steel, big tires that roll over anything and an articulated dump bed to load and unload the mightiest of hauls.
There is something truly magical about a Tonka Truck, that transcends time. Old and young alike love to play with this realistic construction truck. It is a fan favorite.
Empowering Employment Skills Toy Winner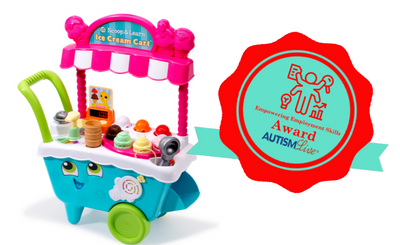 Scoop & Learn Ice Cream Cart™
2+ Years
Learning is sweet when pretending to run your own ice cream cart! The Scoop & Learn Ice Cream Cart™ lets you create a variety of imaginative and tasty-looking ice cream combinations using four flavors of ice cream, three toppings and three syrup flavors.  Build memory and sequencing skills by choosing from six cute animal order cards and following the instructions. 
Everyone wants to play with this scrumptious toy – even the adults. We love how this toy allows children to pretend play the role of being in business and makes it unbelievably fun. The magic scoop is so fun. There are so many things to enjoy about this truly wonderful toy!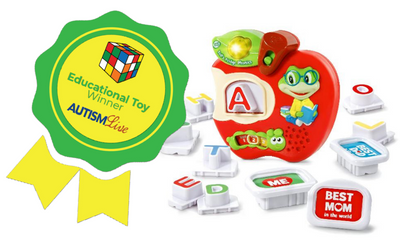 2+ Years
Make learning the alphabet exciting with Tad's Fridge Phonics™! This interactive toy introduces your child to the letters of the alphabet and the sounds they make, helps build vocabulary and exercises fine motor skills. Place one of the 26 musical letter tiles into the letter slot and press down for three modes of play that reinforce letter names, phonics and word skills.  With its magnetic base, it's great for fridge play in the kitchen.
Oh, the amazing things you can do with this wonderful toy! Having trouble learning the alphabet and the all the sounds the letters make? This toy makes it so fun and interactive they don't even know they are learning! Put it on the fridge to make meal prep time a fun, educational experience.
Best Card/Board Game Winner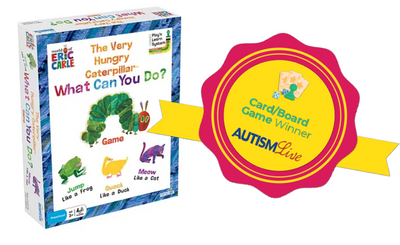 The Very Hungry Caterpillar What Can You Do? Game
3+ years
Kids roll the soft die, then pick a card according to the color rolled. Each player takes a turn demonstrating an action, making a special sound, or playing a fun activity. Whether it's hopping like a frog, quacking like a duck, or tracing the letter C, little ones will earn a feeling of accomplishment with each activity! Cards feature the inspiring art of the World of Eric Carle.
This beautiful game, based on the Eric Carle's award-winning book, is so interactive you can get the entire family involved. We love all the movement and activities built into the game which makes it easier for little ones developing focus skills.
Boredom Buster Toy Winner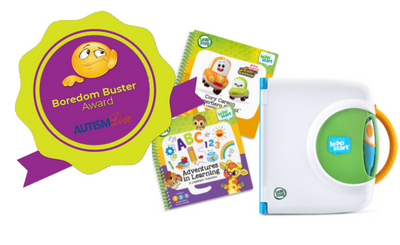 LeapStart® Learning Success Bundle™
2-7 Years
Explore exciting new ways to learn with the LeapStart® Learning Success Bundle™ interactive system. This system with a sleek, new design grows with your child and gets them excited about learning with interactive touch-and-talk pages. Activities that include games, puzzles and creative challenges enhance learning to help kids build math, reading, problem-solving skills and more.   A computer with an internet connection is required to load book content onto the LeapStart® system.
This is a great way for early and pre-readers to grow reading skills wherever they are. We love this for car rides and waiting times, or when dinner has to be made but learning and fun don't have to end.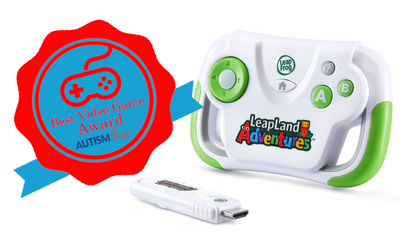 3+ Years
The LeapLanders are getting ready to celebrate the Gem Festival, but the keys to Clever Castle are missing! Go on a quest as you play the LeapLand Adventures™ learning video game. Hunt for keys to unlock the castle and learn about letters, numbers, shapes and colors along the way. Insert the plug-and-play HDMI game stick and USB power cable into the television and start playing the video game immediately using the wireless controller. .
This is the perfect introduction to video games for very small children. It is fun, educational and it's safe. We encourage you to play with your child in the multiplayer mode to share this wonderful interactive educationally rich experience.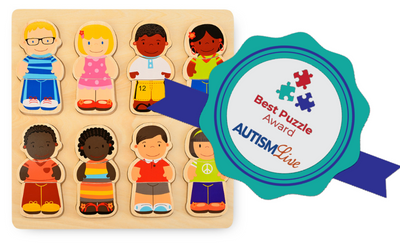 We All Belong 2-Sided Puzzle
19+ Months
This wooden chunky puzzle celebrates diversity in all its forms and inspires children to embrace their uniqueness. Every child, regardless of ethnicity, skin color, ability, or preference, is to be celebrated and respected. The chunky pieces enable success and confidence for little hands. And each piece is two-sided for numerous combinations within each gender. The chunky pieces are also designed to stand on a flat surface so the pieces can be stacked vertically. 24 pieces.
We love this well-made puzzle and the way it celebrates and fosters diversity. We also love the choices a child can make with a two-sided puzzle. This is a great choice.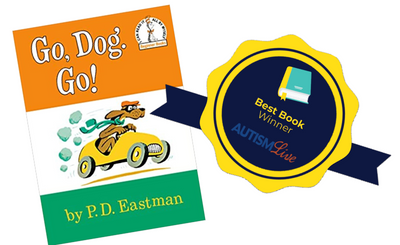 Written for beginning readers using only 75 different words, this beloved Beginner Book by P.D. Eastman—edited by Dr. Seuss—features all kinds of wonderful dogs riding bicycles, scooters, skis, roller skates, and driving all sorts of vehicles on their way to a party held on top of a tree! This is a perfect gift for P.D. Eastman fans and dog lovers of all ages!
If you want to teach prepositions, this is the book you need. The concepts of in, on, under, over, etc. can be really difficult for small children, but this classic book allows dogs to make them crystal clear! Read it over and over, it never gets old.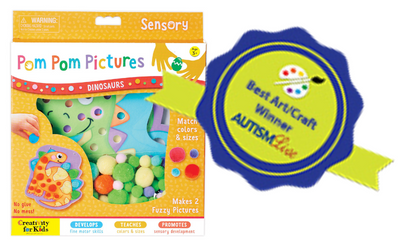 3+ Years
Use pom poms to create animal designs on the front and fun designs on the back! Simply insert pom poms into the pre-punched felt to create designs you will want to display or complete this craft again by just pushing out the pom poms! This toddler craft kit is designed with little fingers in mind. Promote sensory development with a preschool activity that is easy to complete and encourages independent, quiet-time play!
It's the perfect craft kit, lots of fun textures and colors, brilliant guidelines you can follow or decide to do it your own way! When you are done there is no mess, no fuss and no clean up!
We at AUTISM Live
wish you the
Happiest of Holidays!
After all of your shopping is done, if you find that you have more to give, please join us in making a donation of any size to Autism Care Today (ACT). This wonderful organization gives grants to families for things like iPads, insurance co-pays, sensory equipment, GPS devices and more. Your donation could make another family's holiday wishes come true.
TODAY and make a DONATION.