Each year Autism Live curates a list of top toys and gifts in a wide range of categories and developmental levels to help you find the perfect gift to delight the children, teens and adults in your life who are on the Autism Spectrum. This year we have chosen toys in various price ranges to help you make the perfect holiday selection.  We hope there is something to delight everyone on your list!
Calm is the #1 app for sleep and meditation. Join the millions experiencing better sleep, lower stress, and less anxiety. Try Calm Premium to unlock Sleep Stories, guided meditation, soothing sounds and more. Transform your life with just a few minutes a day. There's something for everyone. Something for All Levels. 7-Day Guided Practice. 20+ Mindfulness Topics.
What most caregivers need is respite, time to recharge their batteries so they can come back and be as supportive as possible.  The Calm app puts the power of a break in your phone.  We love the meditations and stories, and we especially love being lulled to sleep by Matthew McConaughey – we call it "McConaughey Factor" – it's brilliant.
Therapist Recommendation Toy Winner
Your child has been diagnosed with Autism Spectrum Disorder and you are feeling overwhelmed and alone. Suddenly you need to become an expert in treatment, diet, language development, social skills, special education law, insurance and a million other things!   Autism: Parent to Parent, Sanity Saving Tips for Every Parent of a Child on the Autism Spectrum has everything you need to cope.
Written by the host of Autism Live (full disclosure), this is a book where Shannon downloads everything she has learned as a PONI (Parent of a Neurodiverse Individual) including how to handle all of the emotions that come from trying to support a loved one on the spectrum in a world that is not always ideal.
The fan-favorite Builder set is taking imaginative play and STEAM learning to new heights with one-of-a-kind extendable magnetic cranes! New ideas are around every twist and turn, where your favorite toy cars and magnetic construction vehicles can take a spin on the easy to assemble streets.
If you have never done magnetic building with your kids, this is the set to get. So many things to build, no prior skill level required. And it is easy to clean up and stores flat. Building teaches so many skills, don't miss the opportunity to build with your kids.
Speech Builder Toy Winner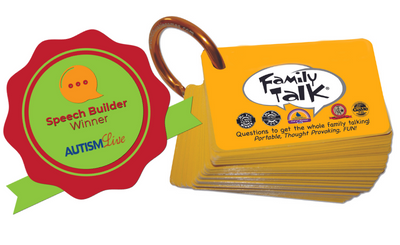 Portable conversation game designed to keep today's busy families connected. Simply pick a card, ask the question and get a surprising and often hilarious glimpse into the hearts and minds of your family members. What makes you feel most welcomed when you get home? What is your favorite family tradition? What would you put inside a time capsule to be opened in 100 years? Diverse topics reveal surprising answers, even from teens who are reluctant to share.
Half the battle of getting a conversation going is picking a topic that will get people sharing.  Family Talk gives you tons of prompts that are sure to be conversation starters. Keep one on the dining room table and one in the car to supercharge social conversation among the family.
Social Skills Builder Toy Winner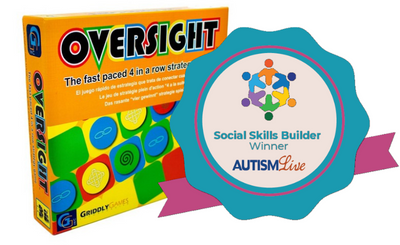 Play this STEM game and exercise your mind and outwit your opponents.
Two to four players compete to be the first with 4 tokens in a row. Players can place a token on the board, or shift an entire row or column of squares by one space. The rules are simple but the game becomes more complex as players learn from their mistakes, pay close attention to the color distraction, and begin to predict their opponents' moves.
We love how this game takes a game like tic-tac-toe to the next level.  Work on problem solving skills while playing this strategic game.  We especially love the coded pieces so even those that are color blind can enjoy this game.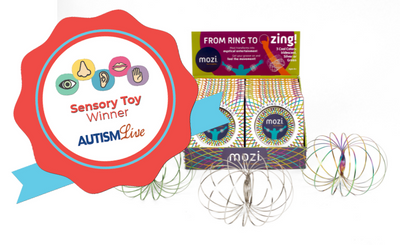 Mozi is like a slinky for your arm. It spins continuously and effortlessly as it moves up and down – from one arm to another, or as you pass it to a friend. Watching it glide is just as mesmerizing and addicting as it is to use. Get your groove on and feel the movement! Comes in numerous colors to choose from!
This is a great sensory way to connect with your kid of any age. Simply put the Mozi on your arm, hold your child's hand and let Mozi cascade between the two of you. It is delightful in an inexplicable way.  Everyone who tried this toy fell in love with it.
Parents Recommendation Toy Winner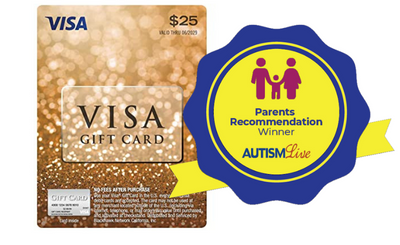 A Visa® Gift Card is a prepaid Visa card that can be used for purchases at merchants worldwide that accept Visa Debit Cards. The value of the card is loaded at the time of purchase and your spending is limited to the amount of money placed on the card by the purchaser.
Nothing says "love" like flexibility and freedom. A Visa gift card is a welcome gift for any caregiver, as it gives them the choice to spend it however they see fit. You can never go wrong with a Visa® Gift Card.
Oldie but Goodie Toy Winner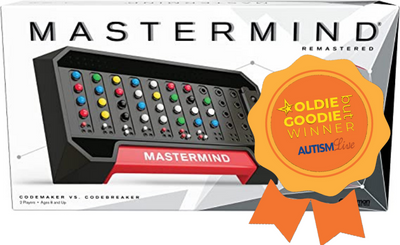 Test your code-cracking prowess with Mastermind, the challenging game of logic and deduction. Can you crack the code in 10 moves or less? Can you create a code that can't be cracked? With more than 55 million units sold, Mastermind is a great strategy game…and one of the world's most popular games ever. It's easy to learn and fast to play and with thousands of code possibilities, it's different every time.  The Codemaker gives clues to the Codebreaker.
We adore this Oldie but Goodie. It works on the sample principles of Wordle but with colors.  We love the give and take of this game and how excited kids get when they are able to tell you how many you got right. This is a perfect game to work on keeping a poker face so you don't give anything away!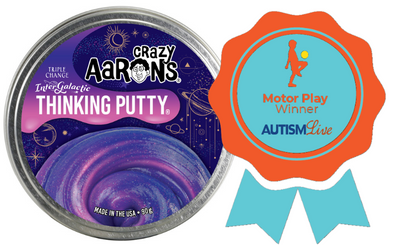 Intergalactic Thinking Putty
Leave Earth's atmosphere and blast off to a new galaxy! Use the heat of your hands to transform your Thinking Putty® from deep space blue, to ultraviolet purple and then to cosmic pink. Stretch and pull your way into Intergalactic space and create infinite galaxies. Vibrant colors change as you play-flecks shine and shimmer like the stars. As part of the Hypercolor® Collection this color changing Thinking Putty® is heat sensitive, meaning it starts one color and changes to another through heat transfer. 
This is a caregiver's secret weapon. Keep it in your bag for moments when there is an unexpected break and you need a sensory vacation. Your kids will love it too. We love that it changes colors like a mood ring!!!
Enjoy America's favorite game show with this Wheel of Fortune card deck. Shuffle the deck & flip your way through the wheel. Call out a letter & try to solve the puzzle in the puzzle deck.This travel-sized, fast-paced game will provide hours of entertainment.
The rules are easy to learn and the game is difficult to stop playing, it's that much fun! It's the perfect party or family game night entertainment.
Kids resoundingly chose this fun card game for their parents. They loved the way the cards make for ease of play just like the beloved show and no difficult set up!
Empowering Employment Skills Toy Winner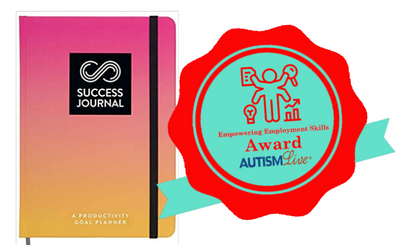 The action-oriented Success Journal provides a beautifully designed and fully organized space to determine your goals, break them into achievable steps, and record your progress.
We love a great bullet journal to keep track of appointments, when to follow up and all the day-to-day aspects of busy caregiver life. We also love a place to put thoughts, express feelings and keep a record of the amazing life you are living. It's great to look back every once in a while to see progress or just marvel at the amazing job you are doing!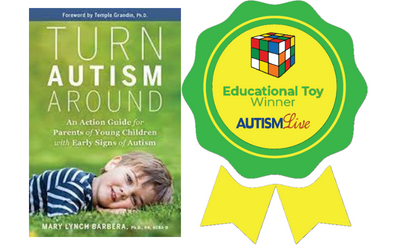 Dr. Barbera has created a new approach to teaching kids with developmental delays that uses the science of Applied Behavior Analysis (ABA) married with a positive, child-friendly methodology that any parent can use–whether or not their child has delays–to learn to teach communication skills, socialization strategies, as well as tackle sleep, eating, potty training, and behavior challenges in a positive, effective, and lasting way.
This is an amazing book to recenter yourself around helping your child. Dr. Mary Barbera imparts practical tips that can make changes today. Her simple strategies are a great way to make life better for you and your child.
Best Card/Board Game Winner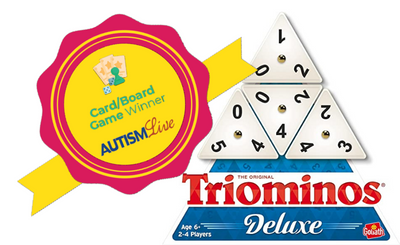 This classic triangular domino gameplay with added strategy is fun for the whole family. Players score points by matching numbers on the three-sided playing pieces, and bonuses for making bridges and hexagons! This game makes a great addition to your family's classic game collection. Easy to learn, fast paced gameplay is great fun for the whole family.
Dominos with more options and a unique perspective, it's so much fun. This is a great leisure game to play while fostering conversation and connection.
Boredom Buster Toy Winner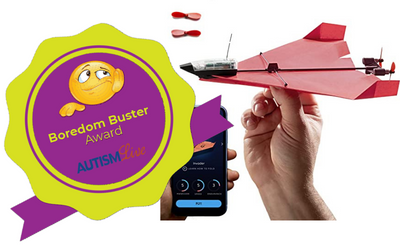 Instantly put yourself in the cockpit of an amazing smartphone controlled paper airplane that does high speed tricks. The bluetooth module, which includes autopilot control, connects to your phone so you can experience the sensation of flying countless papers, foam, and even Balsa Wood airplane models. A 30 minute quick charge gives you 10 minutes of flight time along with an incredible range of up to 230ft! 
Did you love to make paper airplanes but wished you could control them and make them fly longer? Power up 4.O gives you everything you need to create a paper airplane that is controlled by your smart phone. Happy Flying!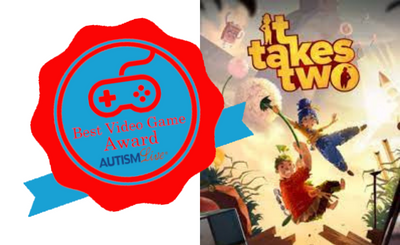 Embark on the craziest journey of your life in It Takes Two, a genre-bending platform adventure created purely for co-op. Invite a friend to join for free with Friend's Pass* and work together across a huge variety of gleefully disruptive gameplay challenges.
Master unique and connected character abilities in every new level. Help each other through unexpected obstacles and laugh-out-loud moments. Embrace the heartfelt story of a fractured relationship.
This is the ultimate game for connection. Like the title it takes two of you to accomplish the crazy tasks and obstacles this game sets out for you. Be cool. Play this game WITH your kids and enjoy the interaction!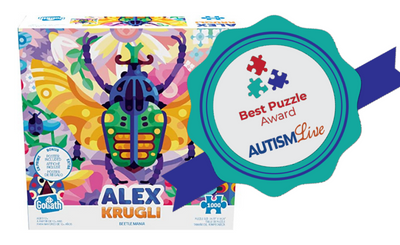 This high-quality puzzle features the unique artwork of world-famous artist, Alex Krugli. His work has been showcased in art installations and marketing campaigns around the world. This puzzle utilizes 1000 pieces made of high-quality blue board for superior fit with a completed size of 26.75 x 18.26 inches.
This beautiful puzzle is just the right size for puzzle play without being overwhelming. Enjoy the gorgeous colors while relaxing into this one-of-a-kind artwork.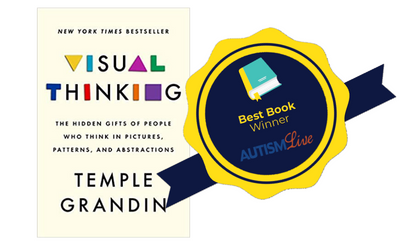 A quarter of a century after her memoir, Thinking in Pictures, forever changed how the world understood autism, Temple Grandin—the "anthropologist on Mars," as Oliver Sacks dubbed her—transforms our awareness of the different ways our brains are wired. Do you have a keen sense of direction, a love of puzzles, the ability to assemble furniture without crying? You are likely a visual thinker.
Dr. Grandin has done it again! In Visual Thinkers she gives us a clear look inside the workings of brains, which are not all the same, and how to maximize the type of brain you or a loved one have.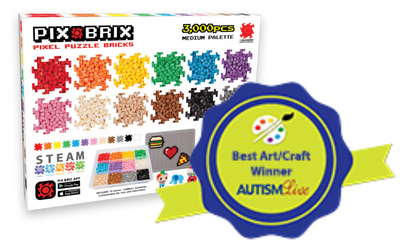 Pix Brix is a pixel puzzle brick that allows the user to create 2D pixel art and 3D builds with only 1 unique patented piece design. The Pix Brix 3,000pc Container comes with a customizable lid, tool, instruction booklet and 3,000pcs of Pix Brix in 12 colors. Available in 3 color series Dark, Medium, and Light. Purchase all 3 containers color series for the full 32 color palette.
This is a super fun relaxing activity for anyone with art in their soul. Create the mural of your dreams, one colored pip at a time, or work together to create a masterpiece for the ages, or at least the refrigerator door!
Don't forget to check out all the fabulous toy and gift winners in other categories.
You might find exactly what you are looking for there!
We at AUTISM Live
wish you the
Happiest of Holidays!
After all of your shopping is done, if you find that you have more to give, please join us in making a donation of any size to Autism Care Today (ACT). This wonderful organization gives grants to families for things like iPads, insurance co-pays, sensory equipment, GPS devices and more. Your donation could make another family's holiday wishes come true.
TODAY and make a DONATION.